[

Main Page

|

Akihabara SR/TnS

|

Ginza TnS

|

Harajuku SR/TnS

|

Ikebukuro SR

|

Shinjuku TnS

]

[

Tenshi no Sato

|

Nagoya SR/TnS

|

Osaka SR/TnS

|

Fukuoka SR/TnS

|

Opening Hours

|

Things To Consider

]

Photoguide created by Dezarii; used with permission.




How to get to the Volks showroom in Osaka:

The short version: Go to Nippombashi station, exit 5. Without crossing the street, just go straight for about 5-10 minutes until you see Volks across the street.

NO TURNS ARE INVOLVED!

The long version:

1. Go to Nippombashi station on the Sennichimae (pink) or Sakaisuji (brown) subway line. Go out Exit 5, which would look like this if you turned around and looked behind you at the exit. But you don't need to turn around, just go right. You don't need to cross the street or walk around the back of the station exit.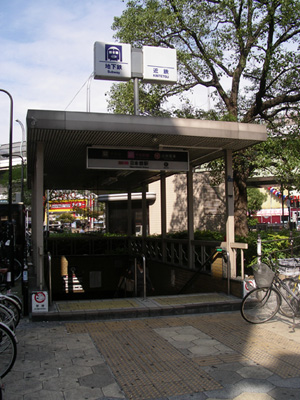 2. Look straight ahead and you will see a big tacky green and yellow sign peeking out behind some buildings across the street. Head in that direction!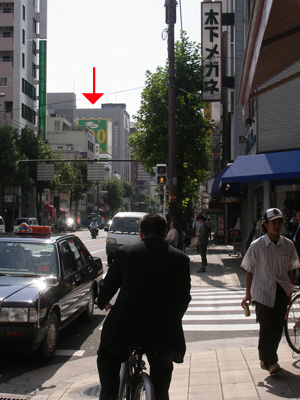 3. As you walk straight, you will see that the sign is for a ¥100 store. Not a bad one either, worth checking out after Volks. Walk straight on past it.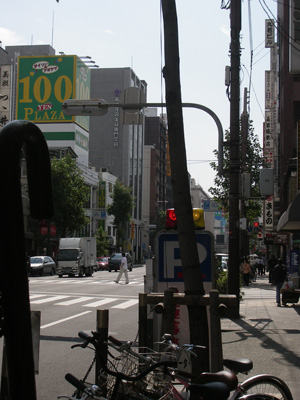 4. As you walk straight, you will see a big building with arches, which is actually a posh furniture store. And a little beyond it, you will see a pea green pedestrian overpass. It's mostly hidden by that truck in this picture, but it's easy to see in real life.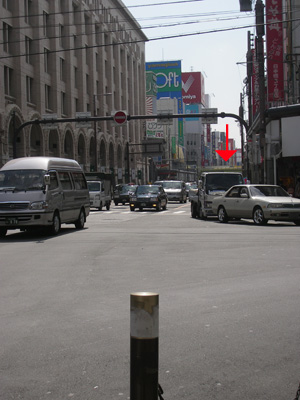 5. Here's a better view of the green structure as you walk up to it. Just keep going straight; there will be a McDonald's on your right. You can actually see the long blue and yellow Volks sign from here.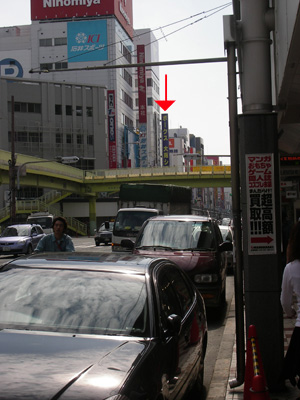 6. Just beyond the green walkway, there is a place where you can cross the street at T intersection. Volks is across the street. Here's the big view of the big blue sign that says 'Osaka Showroom'.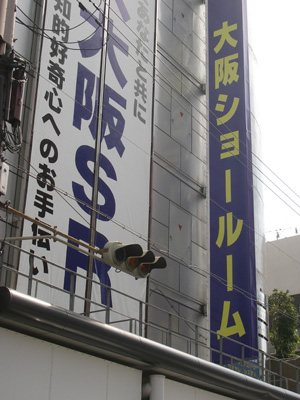 7. And there you are!




MPORTANT! Notice the tiny white sign that says 'Volks'. It is small and not visible from far away. If you are expecting to see a big romaji sign saying 'Volks', be aware that there isn't any. Look for the VS logo and the yellow-on-blue text if you can't read Japanese.

First floor: It's got lots of glass cases that people can rent out to sell collectibles, erotic statuettes, doll clothes, etc. A few people sell SD-sized clothes, so it's worth a look.

Second floor: It has the requisite Gundam stuff, military figurines, etc. If you are in the market for a $3,000 Godzilla statue, stop off here.

Third floor: Robofie Stadium! It promotes the new Volks robots and has stuff to customize them. It is worth looking at the supplies; sometimes they stock the plastic eye parts used in the Unoa Freak homemade eyes.

Fourth floor: For regular Dollfies, Dollfie Dream and assorted other smaller dolls like Blythe and Pinky. You actually do have to stop off here because the escalators are wonky and switch directions at this point. I think they do it on purpose to make you stay longer.

Fifth floor: Tenshi no Sumika!